Below are just a few of the successes we have created for companies and organizations.
Give us a call at 812.479.0858 to see how we can help you.
---
DIRECT MAIL
CAMPAIGN TO THREE DIFFERENT INDUSTRIES.

Sprint needed a business-to-business direct mail campaign marketing to Realtors, Builders, Construction companies and related industries. They called on A&C to put together a comprehensive campaign to meet their needs. When they moved into their new headquarters building in Evansville, IN, we were also the first call for their PR campaign. That consisted of creating the media event and contacting the media, creating invititations, filming the event, recording the news coverage and filming a training session the following day.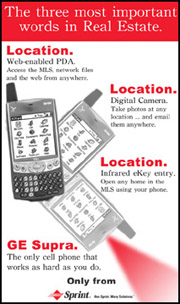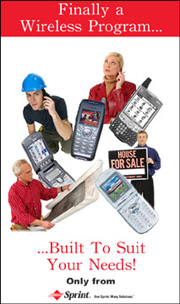 ---
PRINT CAMPAIGN
FOR A STORE THAT SELLS USED CDS.

COPY FOR "SCRAP" AD .

Is the latest release by your favorite Metal Gods too wimpy? Or have you and thrash simply gone your separate ways? Don't bang your head, bring any CD in your collection to Soundwaves, we'll buy it from you on the spot. And we don't just handle used metal, we deal in all kinds of music. Rock. Bach. Rap. Skat. Folk. Grunge. Even disco. You don't have to go to the junkyard to scrap your metal, come to soundwaves.
A pair of ads for Tru-Flite arrows.

Ad for the Vanderburgh 4-H Center to increase meetings and events.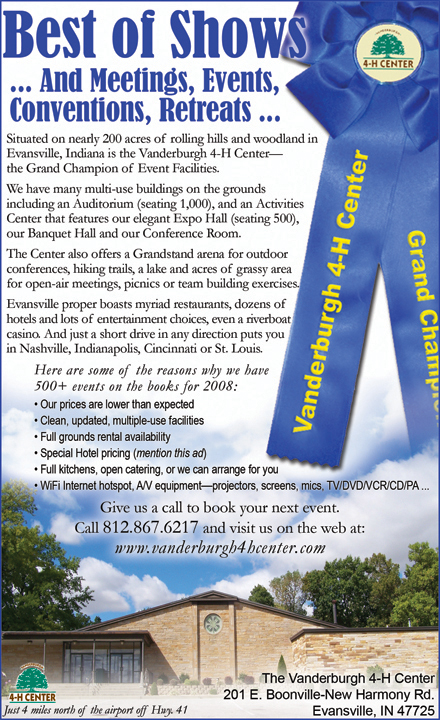 ---
BROADCAST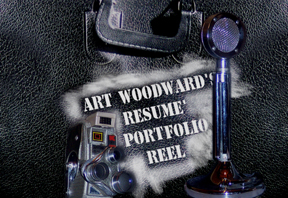 ---
PUBLIC RELATIONS.
The following 2 Public Relations campaigns were from our www.KeepingItLocal.org series.
Campaign #1 was "Music in the Schools" a campaign to fund the local elementary schools's music departments by selling a music CD featuring local artists.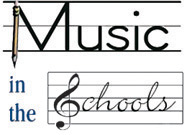 Campaign #2 was

(Click on the logo above or the CD/DVD below to view the campaign)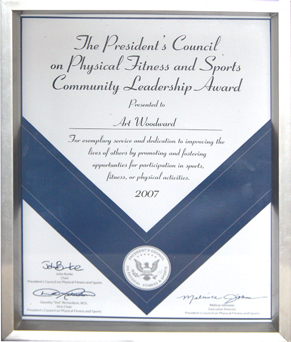 Art Woodward earned the President's Council on Sports and Physical Fitness, Community Leadership Award for PE in the EVSC campaign.
There were only 40 given out nationwide in 2007.
| | |
| --- | --- |
| PE in the EVSC. Art & Copy produced a fitness DVD and music CD to raise funds for the Evansville-Vanderburgh School Corporation's (EVSC) Elementary Schools' Physical Education Departments. We contacted sponsors to help fund the project. Used two local fintess pros for the fitness video and featured 8 local EVSC school kids. The music CD featured 6 local bands (one had been on MTV and all the music had to be radio ready with no negative messages. It also came with a pedometer so that kids could begin a walking fitness program. This won the "Community Leadership Award" from the President's Council on Physical Fitness and Sports. Indiana Governor Mitch Daniels asked us to tag the DVD with his INshape Indiana PSA, he also helped move the product by placing it on his INshape INdiana website. Governor Daniels and Evansville Mayor Johnathan Weinzapfel wrote a message in the liner notes. We recieved gratis, more than 20 ads from the Courier & Press; 2 ads from Evansville Living Magazine; PSAs placed on two local TV stations; Radio station coverage; three different news stories dedicated to PE in the EVSC; interview on radio. Had numerous writeups including a feature story in "News 4 U" magazine. It sold for $12 at Wal-Mart (Eastside of Evansville); Borders Bookstore; Barnes & Noble Bookstore; Evansville Teachers Federal Credit Union; Guitar Center and Resultz Personal Fitness. | Two years after the success of the Music in the Schools campaign, Art Woodward, owner/creative director of Art & Copy read that the US childhood obesity rates had doubled in the last 20 years and that his home state - Indiana - ranked 9th in the US in obesity. He was moved to do something about that in his hometown of Evansville, IN. |
---
OUTDOOR CAMPAIGN.

/\ This board ran March - April

/\ This outdoor board ran Jan - Feb

/\ This bus board ran through the summer

Resultz initially contracted A&C for consulting. A huge, new "Y" had recently opened nearby and they were feeling a pinch.

When we came on board, Resultz' tagline was: The area's only upscale fitness facility for adults. We noted that the word "upscale" carried baggage even if a person were in a higher tax bracket. Also, there was no place to leave kids at the facility while working out. We suggested losing the "upscale" tagline and replacing it with : "Want Results. See Resultz." We also suggested they have a staffed area dedicated to childcare. They listened and made the recommended changes.

These billboards, some ads and direct mail pieces, came out of the consulting and are targeting women with children

A&C has done many projects for Resultz from direct mail to consumers and business-to-business; print advertisement, and even concepting/organizing an in-house "reality-type" game called "The Resultz Ultimate Membership Challenge.

MEMBER COMPETITION.
---
CORPORATE ID

When Radiology Services, a major supplier of radiological products to the medical industry, needed a professional corporate ID they came to Art & Copy. Most symbols that indicate "radiology" convey a negative image. We created a look that reflected the photographic aspect of the industry; kept their original colors and even turned the "i" in Radiology into the number 1. We also created new business stationary that utilized the theme of the new logo.

---
Bethel Manor, a nursing home for the elderly, wanted a fresh look to go with the new brochure we created for them.
A tree that we had photographed on their property was the inspiration for the new logo: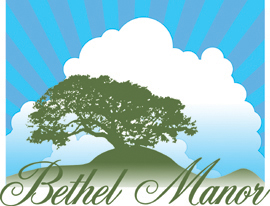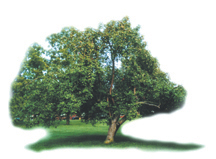 The logo (l) and the actual tree (r).
---
We also specialize in
WEBSITE NAME CREATION
When the Evansville Area Board of Realtors needed a name for their website that would convey the benefit of the organization, they called on Art & Copy and this is the name we created for them
BuyHomesNow.com
---
SMALL SPACE AD

One of the many pieces we produced for them.
We announced the Grand Opening of their new branch on Vogel Road. The campaign included radio, print, public relations, outdoor, in-branch signage and direct mail. Because of the properly worded and administered PR, the event was covered by 2 of the 3 local television news entities, by the Courier/Press and by a dozen or so of the local radio news stations. My client exceeded their goals for new membership, and six months after the campaign, they had surpassed total growth of the previous year.
---
DIRECT MAILER /AD

The director of University Relations commissioned us to create an annual giving piece for the University. The finished piece was quite successful and very well received.
They recently call us back to create a 1/2 page ad, a brochure and web copy to introduce their new Adult Master's Degree Program. We created another direct mail campaign for the Adult Degree program.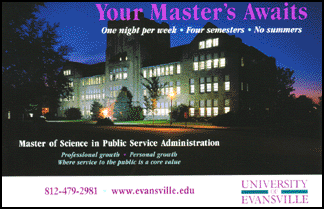 One of A&C's pieces for UE's adult education program
---
MUSIC MESSAGE VIDEO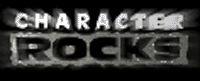 CLICK ON LOGO ABOVE TO VIEW


We concepted, wrote, shot and produced this video called "Character Rocks." It was a campaign spearheaded by the late Gov. O'Bannon to help instill character in school-aged children. We created scratch tracks in our WoodRocks Studio, then invited the diverse group of musicians in to record over. The end product featured the kids in the video with BGVs and minor acoustic guitar by Art Woodward.

(FOR OUR BROADCAST SAMPLES - TV, RADIO AND VIDEO - ASK FOR OUR DVD).
---
MULTI-FACETED CAMPAIGN
INCLUDED PRINT ADS, TV, RADIO, DIRECT MAIL, STATEMENT STUFFERS,
IN-BANK SIGNAGE, SPECIAL PRODUCTS WITH LOGO, BANNERS,
OUTDOOR, EMPLOYEE COMPETITIONS.

While working as a senior writer at an agency, Art Woodward, owner/creative director for A&C, concepted, wrote, directed and produced the most effective loan campaign for Old National Bank in their 150+ history. They secured 897 loans ... the goal was 750!

Old National is the largest state-headquartered bank in Indiana.
---